More pork for less costs
Verified best-in-class performance
Exceptional meat quality
1,128 g is a daily gain
beyond belief
DanBred Duroc offers superior daily gain.
This, of course, reduces the days until slaughter and lowers your total feed cost. 
DanBred Duroc also produces large litters with high survival rates and vital piglets.
Add to that the use of fewer resources, which makes you more sustainable.
All-in-all, this makes your business more profitable.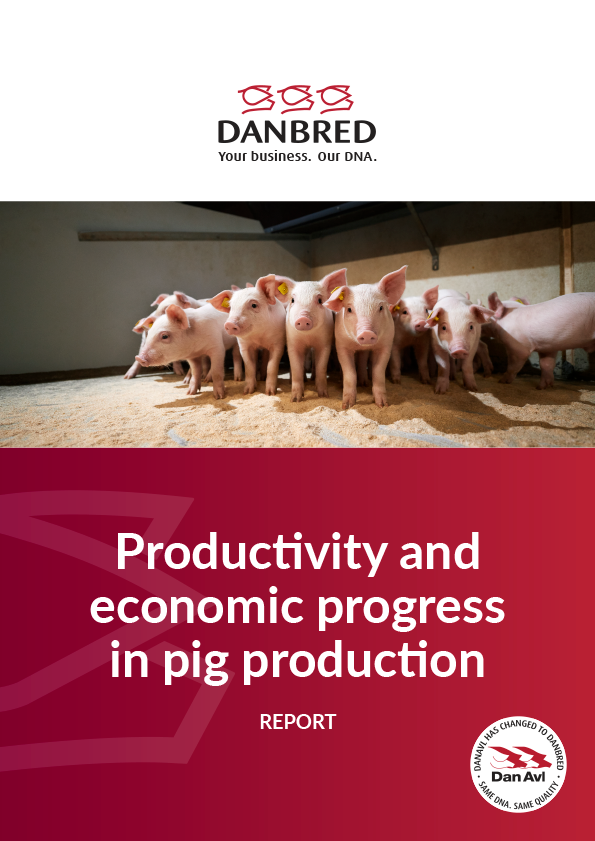 Do you want all the economic advantages of Danbred pigs?
Learn more about our breeding programme, world-class genetics research, and service solutions in our brochure. 
Discover how DanBred makes it possible to produce the highest quality pork with the least costs possible; maximum output for minimal input.
We are best-in-class at feed conversion
2.27 kg feed per kg gain. 
This is an impressive number worth repeating. 
2.27 kg! 
We have taken the gambling out of breeding. 
In fact, it is well documented that DanBred Duroc delivers outstanding performance compared to other Duroc sire lines. 
These results are not achieved by chance. 
They are based on decades of data and more than 30 years of professional selection benefitting your business.
62.5% lean meat equals exceptional meat quality
Profit from more good meat.
DanBred Duroc produces finisher carcasses with excellent meat quality.
The high lean meat percentage matches the trend for increasingly heavier finishers.
Pork production based on DanBred finishers also benefits from the uniform and high-yielding animals.
This results in a consistently high product quality with optimum lean meat content.
Do you want these impressive numbers summarised?
Then, download our leaflet here. 
It comes with all the numbers, including further elaboration on how we have achieved these remarkable results.  
Feel free to share it with interested colleagues.